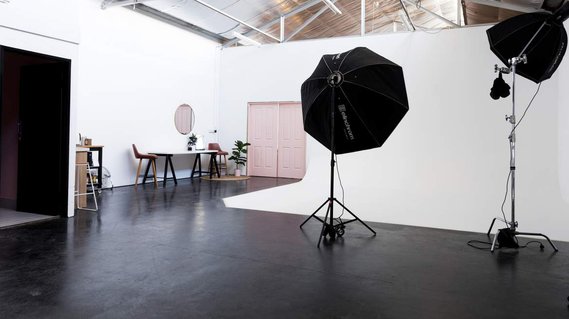 PHOTOGRAPHY STUDIO
100m2 studio space (plus 25m garage area upon request)
Large 5.5m(L) x 6m(W) X 4.5m(H) cyclorama
White painted brick wall
Natural light
Makeup and hair area
Access to kitchen, bathrooms and change rooms
Heating and Air-Conditioning
Clothing racks

Roller door access

Accessible Parking (1 onsite)
HALF DAY - UP TO 4 HOURS
$300 + GST
FULL DAY - UP TO 8 HOURS
$600 + GST
Additional extras:
One additional parking space - $35 per booking
Open garage area (for natural light shooting) - $35.00 per booking
Conditions:
Lighting and equipment not provided.
Freshly painted cyclorama on request
Read the Terms & Conditions here
EVENT SPACE
Whether it's a presentation, exhibition, casting, workshop, fashion showing or seminar, Studio Made is equipped to help house your event.
Pricing depends on type of event and number of guests.
Get in touch for details